STIR Arts Culture Vancouver – October 28, 2020
Curators re-create the disability-arts pioneer's metaphorical world of sculptures and collectibles
SUM gallery presents Time-Lapse: Posthumous Conversations—A Geoff McMurchy Retrospective from October 29 to December 1. COVID-19 safety measures here
AMID ALL THE WORKS that disability-arts pioneer Geoff McMurchy made over his life, perhaps his greatest creation was his East Vancouver heritage home near the Drive.
An avid collector, McMurchy, who died in 2015 from complications due to his quadriplegia, scavenged and artfully displayed everything from wooden snakes to the glass flower frogs used for floral arrangements. String lights, his own large, reclaimed-material sculptures, shadow boxes, and candlesticks: they created a walk-through curiosity cabinet whose walls were painted lush green or emblazoned in yellow wallpaper. An elevator lifted him down to a garden that was equally visually striking, a textural artwork of spiky grasses and vibrant flowers punctuated by more sculptures—most stunningly, a spine with seven vertebrae curving up a weathered wooden fence.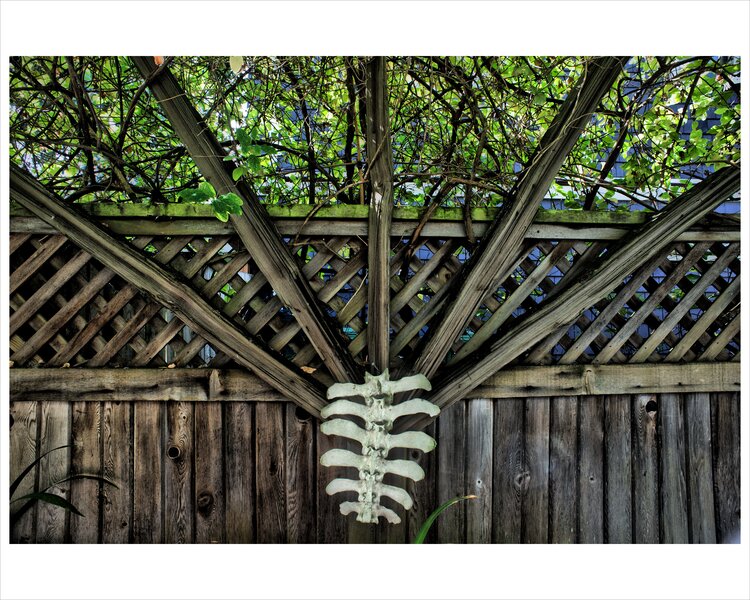 Five years later, an ambitious new exhibit at the Pride in Art Society's SUM gallery aims to give viewers an intimate look at McMurchy's life and art—as well as a feel for what being in that home was like. Time-Lapse: Post-Humous Conversations—A Geoff McMurchy Retrospective spans artist SD Holman's detailed photographs of the rooms in McMurchy's house, captured in 2016; his own artworks; and what co-curator Yuri Arajs calls "ephemera" found in storage boxes provided to the curatorial team by McMurchy's family.
As you walk through the gallery, you'll see the snake collection installed along a wall, or his hundreds of plastic garden tags, the kind that label plant containers, jutting like flowers out of a table and scattered up along the wall behind it. Look for dozens of paper roses found in a jar in his home, and hundreds of alphabetic letters in wood and other materials, finding meticulous and meaningful placement in the show.
And then there are the eggbeaters. "In his home there was this huge metal basket full of eggbeaters," explains Arajs, who curates the show with Holman and longtime McMurchy friend Persimmon Blackbridge. "So I installed them all in the air as a column. I think there's 75 eggbeaters floating in the air. With this ephemera, we didn't want to create 'art' per se; we wanted to create a little different experience than art. It's a different way of showing the way this person thought and the way he collected."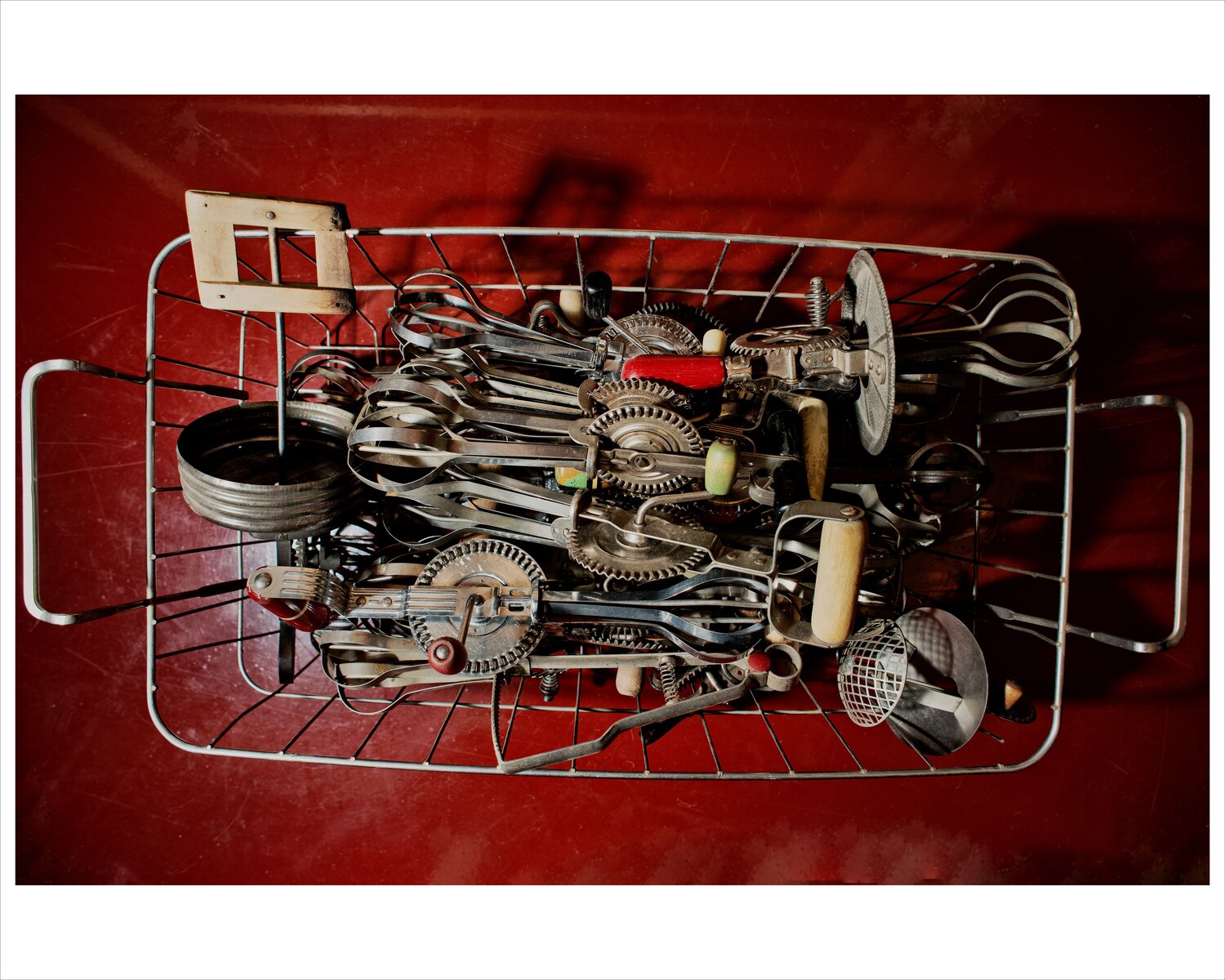 McMurchy was, after all, a multifaceted artist. The founding artistic director of Kickstart Disability Arts & Culture was also an accomplished dancer. He had danced before an accident changed the course of his life. The Vancouver Art School student was on his way to attend Nova Scotia's College of Art and Design when a diving accident in Alberta broke his neck. Later, in Vancouver, he found his creative voice again and spent the next 15 years working toward accessibility and equal rights with the B.C. Coalition of People With Disabilities. Even more, he showed that there was creative and physical life beyond disability.
In one dance work performed at the Roundhouse Community Arts and Recreation Centre, McMurchy performed in his wheelchair with sculptural metal wings that he had crafted from a metal car grill and feathers. The metaphorical wings take prominent place in the Time-Lapse show—as do other works that express the theme of flight, whether it's through old bones or sticks and thrown-away kitchen implements."He was able to put together rough, discarded items—some really ugly, destroyed shit—and put it together in a way that completed the vision of what flight is. There was always the optimism of what is possible."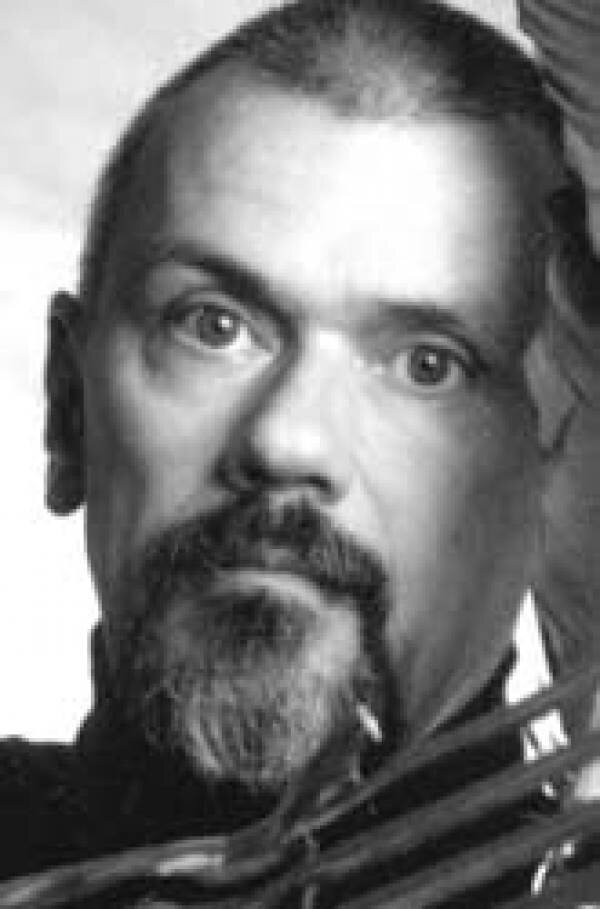 Arajs, who met McMurchy before he himself became artistic director at Kickstart from 2015 to 2019, comments, "Geoff had an ability to pull out objects and use them in a way that looked like gold. He was able to put together rough, discarded items—some really ugly, destroyed shit—and put it together in a way that completed the vision of what flight is. There was always the optimism of what is possible."
McMurchy, who was also a member of the LGBTQ2SIA community, has a Pride outfit in the show—as creative as you might expect from someone so adept at putting things together. "There's a tutu with an apron made out of that fake grass you sometimes see on doormats, with little paper roses and clear pockets,"Arajs says."The headdress is made with an artist in Edmonton, and basically it's made out of crows' feathers stitched together.
"It's all part of who made up that person," Arajs continues, describing a show that pushes the bounds of what an exhibit can be. "That person was creative in so many different ways." With a trio of curators, he adds, "That's three different perspectives that have come together to give you a clear vision of who this person was."
Look for numerous events, such as online talks and curator tours, during the run of the show. Timed-entry visits to the gallery are bookable online.
Donations and half of proceeds and from art sales at the exhibit will go to the Geoff McMurchy artist-development grant started in his name at Kickstart.